Delivery Information
UK & BFPO Delivery.
As always we offer a standard shipping service, free of charge, for all UK customers. Even while serving abroad with a valid British Forces Postal address.
We know how important it can be to get your order delivered on time for deployment so we also offer a number of service upgrades including: Next Day Delivery, Special Delivery Before 1pm, Special Delivery Before 9am, DHL, Interlink, UPS and International Track & Trace.
We want your order delivered when you do, that's why we actively work with our shipping partners to monitor for possible delays. If a problem ever arises, our team will bounce into action and find a resolution that suites you.
International Shipping
We ship to over 240 countries worldwide using UPS, Interlink, Royal Mail and DHL. International shipping cost is based on the order weight. It's simple to calculate your shipping costs for any product or country using our shipping estimator (detailed instructions below).
Tax Matters
We charge VAT at 20% when shipping to countries within the EU, except qualifying tax-free BFPO addresses. Normal prices on the site include this 20%. When you checkout and an address that is eligible for VAT FREE shopping, the VAT will be deducted and this will be clearly shown to you.
More information on BFPO Shipping can be found here.
Cost and Speed
Step 1
Add a product to your shopping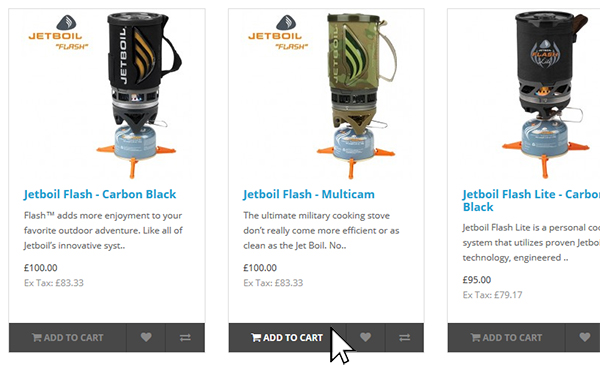 Step 2
Go to the shopping cart by clicking the link in the top right.


Step 3
Input your address details in the Shipping & Taxes estimator, click apply and the correct shipping and tax will be applied.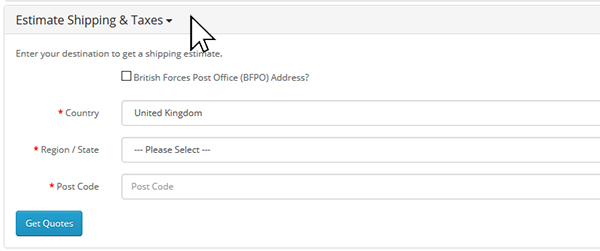 Queries
We would be happy to answer any queries you may have about international shipping. Please call or use our contact page to drop us a line.